Hyster forklifts Sydney have a complete line of forklifts with over 130 different makes and models. They come configured to run on LPG, gasoline, electric and diesel. They're designed to meet any challenge, and they can lift between 907 kilograms to 52,163 kilograms. Hyster lift trucks excel at handling all types of non-palletised and palletised loads with speed and efficiency.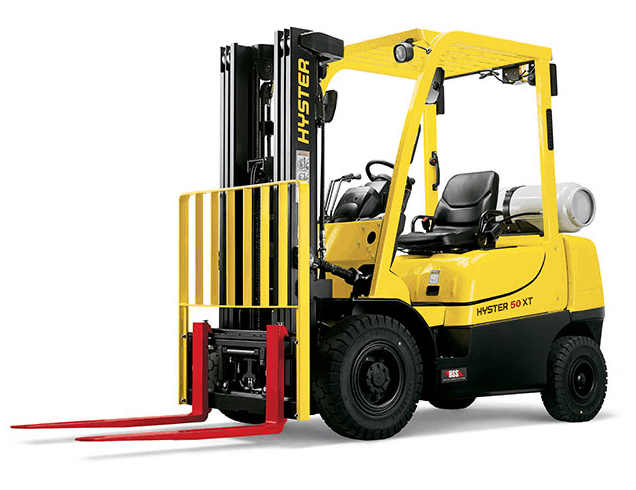 An Extensive Range of Hyster Forklifts To Hire or Buy
Their exclusive lineup of lift trucks can handle both indoor and outdoor projects with ease. They also do very well in distribution and warehouse settings. Some of the extensive lineup that Forkserve supplies to Sydney businesses includes:
Internal Combustion Pneumatic Tire Trucks – These forklifts have diesel and LPG engines paired with a Duramatch transmission. These fuel sources, combined with this transmission helps to reduce costs and improve your productivity.
Internal Combustion Cushion Tire Trucks – These feature-rich forklifts come designed for work in high-lift areas with confined spaces. They deliver excellent operator ergonomics, dependability and productivity.
High Capacity Trucks – Suited for heavy work and large loads, these trucks excel at outdoor work. They're suitable for equipment lifting, and they can lift 8,618 to 47,999 kilograms. Our tyre forklift trucks come in electric, diesel and LP.
3 and 4-Wheel Electric Trucks- Electric counterbalance forklifts are some of the most energy-efficient and productive on the market today. They work well in both indoor and outdoor applications, and they put out zero emissions.
Pallet Trucks and Stackers – Use Hyster pallet trucks for horizontal equipment and load moves in warehouses. They prioritise operator comfort and manoeuvrability. The stacker trucks help you make excellent use of all of your vertical space.
Reach Trucks – Safely and effectively reach your pallets in narrow aisles. These trucks combine powerful technology to deliver exceptional performance. You'll also get a very low operational cost.
Order Pickers – Streamline your order picking process with Hyster's forklifts. They have low, medium and high-level models available, each of which is perfect for maximising your available space. The driver's comfort and safety are paramount, and this boosts your productivity levels.
Very Narrow Aisle Trucks – You can tailor your very narrow aisle trucks to suit your needs with different heights, mast operations and model configurations. Purchasing or hiring one of these forklifts enables you to efficiently retrieve your pallets and optimise your storage capacity. 
At Forkserve, we're proud to offer a range of new and used Hyster forklifts. We offer cost-effective pricing on sales, hire and routine forklift maintenance. Contact us on 02 9134 8134 today to find out more!