For a wide variety of quality forklifts that can meet a diverse application need, look no further than Komatsu forklifts Sydney. They're an excellent choice for both indoor and outdoor work due to the four different styles and sizes you can purchase. 
Internal Combustion (IC) Komatsu Forklifts For Sale
We offer two different IC forklifts including the IC-Cushion and IC-Pneumatic forklift from Komatsu. These two forklifts are typically found used in more heavy-duty operations. Brick and timber yards are two good examples. They're able to easily shift and move the heavier loads from point A to point B. However, maintenance costs vary greatly for these types of forklifts. They require you to perform regular engine maintenance and inspections to help avoid large problems and high maintenance costs. 
You're able to refuel this forklift simply by switching out the tank or adding more gas or diesel. You visit an OSHA-approved filling station, top off your forklift and you're on your way within minutes. A downside is that you may have to stop what you're doing and refuel in the middle of your shift. 
Komatsu forklifts also offer electric rider forklifts and narrow aisle forklifts. The narrow aisle forklift comes with double reaching capabilities. This makes it a great tool for distribution centres or warehouse work because it can reach high shelves.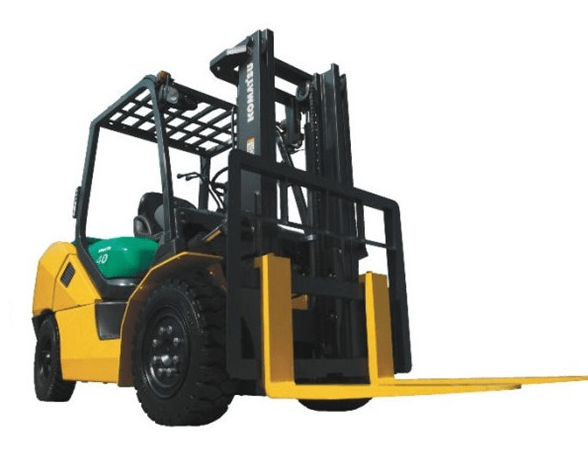 All of these forklifts come with higher safety standards and precautions. The operators get durable cages for safety against falling loads. They also have padded seats with padded backs and armrests. Since they're comfortable when they operate the forklifts, their productivity levels rise. The forklifts come with hydraulic steering capabilities that ensure a smooth transition and easy manoeuvring. 
Komatsu has been around since 1917 in Japan. They were originally contracted to work for the Japanese military. Komatsu supplied tanks, bulldozers and more before shifting to other pursuits. They began manufacturing and selling forklifts in the late 1980s in Japan and the United States. The mid-1990s found Komatsu coming to Australia and bringing their innovative forklifts. They make the largest bulldozer in the world in addition to other heavy machinery. 
Are you interested in learning more about our line of Komatsu forklifts? Maybe you want to add one or two to your own company fleet. Either way, Forkserve offers competitive rates on forklift sales and maintenance. We also offer flexible hire and purchase opportunities for our Komatsu forklifts. You can contact us on (02) 9190 7089 for more.