Did you ever wonder if you have the right type of forklift tyres on your heavy equipment? Maybe you're not sure when it's time to replace those worn-out tyres. We want to help keep your forklift running in top shape, so we'll tell you all you need to know about fixing forklift tyres below.
Cushion Versus Pneumatic Forklift Tyres
Generally, cushion forklift tyres are best for an indoor application while you can use pneumatic tyres for outdoor applications. Cushion-type tyres come designed for use on smooth warehouse flooring or asphalt. Pneumatic tyres come with a higher ground clearance than cushion forklifts, and this allows you to manoeuvre around on rough or uneven surfaces better.
Pneumatic tyres are available as solid rubber or air tyres. Air pneumatic tyres are very similar to those you'd find on traditional vehicles. On the other hand, solid pneumatic tyres are solid rubber. You'll put solid rubber pneumatic tyres on forklifts that travel over areas with a lot of debris, for example in construction sites. These are robust tyres; screws or nails can't puncture into them.
You should get your forklift tyres from a reputable manufacturer and use trusted brands. This helps reassure you that you're purchasing parts that will last and be well worth your investment.
Determining When to Change Your Forklift Tyres
If you measure and there are less than two and a half centimetres of lettering left on the top of your forklift tyres, it's time to change them out. As the tyre wears down, the operator and forklift itself start to absorb more of the shock. Your machine's transmission has to work harder to turn the tyres, and this can result in more wear and tear or failure.
Some tyre brands have a safety line built right into your forklift tyre. This safety line tells you exactly when it's time to replace them. It's apparent on the tyre, and you want to replace your tyres before the wear gets to the safety line.
If you notice damage to your tyres, replace them immediately. Flat spots, cracking, tearing or chunking are all typical damage with forklift tyres. Damaged tyres threaten your operator's safety, and they can lead to equipment damage as well.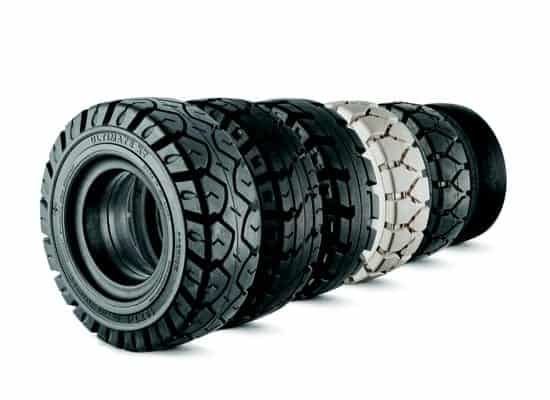 Contact Forkserve for Forklift Tyre Sales Today!
If you need to hire or buy a high-quality forklift, contact Forkserve today by calling 02 9134 8121 or by filling out our inquiry form.