Raymond forklifts are versatile as they come in different sizes and also run on different power sources. They recently introduced a lithium-ion battery in 2017 which makes Raymond forklifts Sydney excellent for indoor use.
The advantage of using Raymond forklifts is that you have so many to choose from. Their industrial machinery range includes reach trucks, pallet jacks, counterbalanced trucks, turret trucks, order pickers, side loaders, tow tractors, walkie stackers, manual pallet jacks, automated forklifts and the basics.
These forklifts can lift up to 5,443 kilograms and reach a height of 18 meters. They pack a lot of power into the smaller frames. This makes them a valuable piece of heavy machinery to have on-hand.
Raymond Forklifts Are Loaded With Technology
A unique feature with Raymond forklifts is the multifunction colour touchscreen display. This screen is integrated right into the forklift's control system. It gives the operator real-time data that can help to streamline their daily activities and speed up their processes.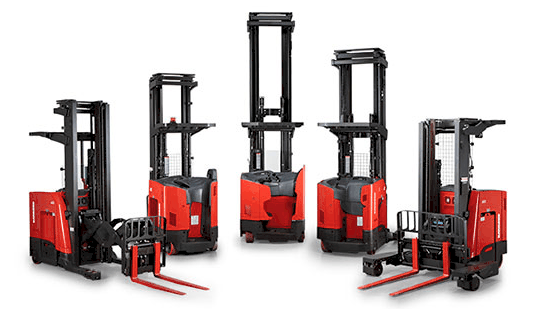 Energy efficiency and versatility are the two main selling points of this brand. The narrow design gives you precision control to manoeuvre around crowded areas. You can use it to load or unload trucks, pick items and stack shelves. The machines use an AC-powered battery operation to run, and this battery doesn't release any emissions. It loses less power when you use it, and this can help it run longer.
A disadvantage with electric forklifts is the battery. You have to have space for a battery charging station. Also, you have to train your staff on how to properly maintain these batteries. They're also more expensive upfront due to the additional items you have to purchase. 
Raymond Forklifts has been manufacturing and selling forklifts for over 95 years. In 1997, BT Industries acquired the Raymond Corporation, and Toyota acquired BT Industries in 2000. The combination of these three entities forms the largest forklift manufacturer in the world. 
They've built a reputation for having some of the best electric lift trucks in the industry, and have seamlessly incorporated technology into their forklifts to make them modern and convenient to use. Additionally, Raymond Corporation maintains its own brand, products and distribution channels throughout the world. 
Would you like to know more about our line of Raymond forklifts? Maybe you're not sure which would be the best choice for your operation. You can contact us on (02) 9672 1968 for more information.