Jungheinrich has a line of dependable and reliable forklifts for busy professionals. They have a broad range of lift capacities combined with several different functions to customise your forklift to your needs. Jungheinrich forklifts Sydney strive to be a total warehouse solution with over 60 years of industry experience backing them.
You can choose from the 26 unique Jungheinrich forklifts that Forkserve supplies, with models divided up in into four broad categories. If you need forklifts primarily for loading and unloading, there are two models available. One is a sit low-lift pallet truck, and one is a hand-powered pallet truck. Both come designed for easy manoeuvrability and operator comfort.
For order picking in warehouses and distribution centres, you have four options to choose from. Jungheinrich offer a small parts picker, or you can choose from their low, mid and high-level order pickers. Each has a durable design and run on fuel or electricity, and you get larger workstations to make your job fast and efficient.

Ground level transport is a big deal for both small and large companies. Jungheinrich gives you 11 different forklifts with varying capabilities. They all feature innovative software and a drive system that gives precision steering. This enables your employees to have excellent productivity levels all shift.
Finally, Jungheinrich manufactures 22 different models and sizes for the retrieval and put away forklift models that you can purchase or hire. They have 16 heavy-duty forklifts that are suitable for outdoor use and six indoor/outdoor models.
Jungheinrich forklifts can reach a maximum reach height of 17 meters with a maximum lifting capability of 8,981 kilograms. They're all electric or manual, and this means that they don't produce emissions when they run. You can run them indoors without a problem, even in confined spaces.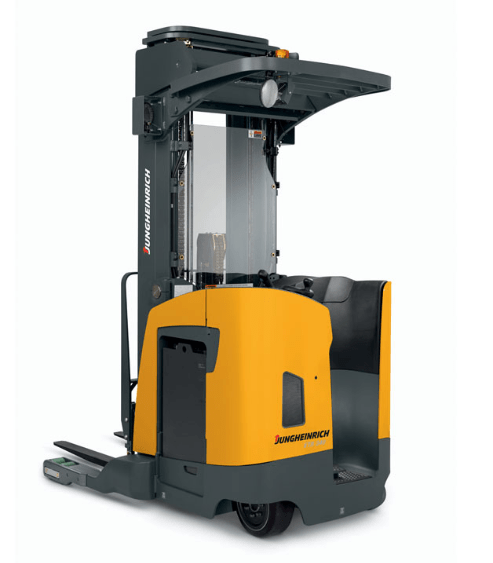 Energy Efficient Electric Forklifts Sydney
Jungheinrich is a brand that set the industry standards for offering technologically-advanced forklifts combined with energy-efficient designs. This design can help to lower your overall operating costs and improve your efficiency.
However, electric models do have to recharge. This means that you could find yourself stopping mid-shift to swap out batteries. You also have to find space for battery chargers that is easily accessible by all of your staff to keep them running.
Do you want to add Jungheinrich forklifts to your fleet? Forkserve is one of the most cost-effective options in Australia. We offer low hire and purchase pricing, comprehensive customer service and a broad range of forklift parts for Jungheinrich forklifts Sydney. You can contact us today on 02 9134 8134 to talk about finding the perfect forklift for your needs.