Whether it's in busy warehouses, fast-paced ports, or on bustling construction sites, there's a common sight present across all these industries, the ever reliable forklift. This vital piece of machinery is the cornerstone of many businesses and forms an integral part of delivering operational performance.
In order to ensure that a forklift is as productive as possible, it's vital to ensure it's equipped with the right type of tyres suitable for its environment. This will not only ensure optimal performance but mitigate any ongoing operational costs.
Here at Forkserve we're been in the Forklift business for over 40 years. We're committed to making sure all our equipment is running to its potential, a vital part of which includes the appropriate fitout of the best suited tyres.
In this blog we'll go through the importance of selecting the right type of tyres, the range of tyres available in the market, and how to determine which will be the best fit for your particular requirements. 
Importance of Selecting the Right Tyres
Across many industries and in a variety of applications, forklifts perform core functions forming an integral part of operational performance. A key way toward getting the best performance from a forklift is to equip it with the right tyres for the job.
Selecting the best forklift tyre for your particular application can have significant impacts on safety, productivity, and the businesses bottom line. 
Safety
This should be your number one consideration. Operating a forklift with the correct fitted tyres aids in ensuring the highest levels of safety. When appropriately equipped a forklift will handle better in operation and be more responsive under braking, providing vital control and protection from any unforeseen circumstances.
Matching the right tyre to its intended operational surface is another important safety factor. 
This reduces the risk of a forklift slipping when lifting loads, and improves the stability of loads when being transported.
Productivity
A forklift's productivity can be increased when fitted with the most suitable tyre. Equipping a forklift with the most appropriate tyre enables it to consistently lift and transport loads with the least resistance and wear, a vital consideration in meeting ongoing operational requirements.
Additionally from a sustainability perspective, selecting a better suited and more durable tyre, reduces any unnecessary downtime related to punctures or other wear and tear.  
Financial costs
Finding the right fitted tyre can have significant financial benefits. A high quality durable tyre can last two or three times as long as a cheaper alternative. 
Since tyres account for up to a third of fleet maintenance costs, equipping a forklift with the right tyres will cut down replacement costs, call-out fees, associated labour, and machine downtime.
When going about this important tyre selection process, there are a variety of factors that should be taken into consideration namely, the intended application, type of forklift and work environment.
Let's go through each type of tyre available and the best environment where they can be used.
Types of Forklift Tyres
Forklift tyres aren't all black, round and created equal. Each type has been manufactured for use under different conditions and are suited to a range of applications. 
Cushion / Press-On Tyres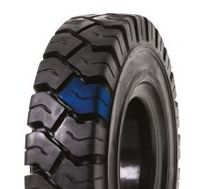 Cushion also known as press-on tyres are made of solid rubber which is fitted around a steel band. The rubber can either be traction or smooth.
These tyres are best suited for indoor or light outdoor use on smooth surfaces, generally having a good turning circle. In this environment, cushion tyres last longer, providing increased manoeuvrability and improved traction.
Pneumatic Tyres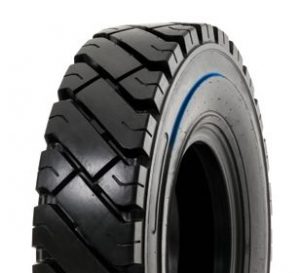 Pneumatic forklift tyres are similar to the tyres found on the cars, trucks, and trailers you see on the road every day. They are made of traction rubber, filled with compressed air and are manufactured either as radial or bias.
Pneumatic tyres usually last very long and are suited to applications where the forklift will face uneven or rough terrain since they offer better traction and increased stability. They are known for their versatility and it's common to see forklifts equipped with them working a wide variety of jobs on all sorts of surfaces. 
It's worth noting these type of tyres require more upkeep than both press-on band and solid tyres. 
Solid Rubber Tyres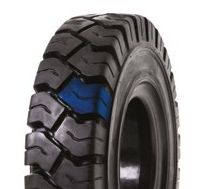 Solid rubber tyres are by far the most popular forklift tyres in the world. These tyres are very durable and can't be punctured or deflated, which makes them ideal for industries with sharp debris.
The most notable traits of solid press-on band tyres are their resistance to scrubbing when running on hard surfaces, puncture-proof construction, and long lifespans. Since they have a lower profile than other tyres, they boost machine manoeuvrability and create a smaller turn radius.
Their application is best suited to indoor use, but you can use them for very light outdoor use. Due to their solid construction however, they don't do well on rough or uneven terrain.
Polyurethane Tyres
Polyurethane tyres are a type of press-on tyre, which are lightweight and more resistant to splitting, tearing or chunking out under a load than rubber tyres.  They combine good traction with low-rolling resistance, and generally experience about twice the lifespan of rubber tyres.
Polyurethane tyres should only be used indoors for light applications with even surfaces like warehousing. as even small cracks in the floor can cause damage to the tyre.
Non-Marking Tyres
Non-marking tyres are made with hydrated silicas and special additives for eliminating black marks on floors. They are available for pneumatic, solid and cushion tyres. 
Since the carbon black has been removed from these type of tyres they have a short life span and are prone to cause static electricity, which means they require an anti-static strip on the forklift.
These tyres are best suited in environments where food is being handled such as in grocery and food processing factories.
Where We Source Our Tyres
Here at Forkserve we never compromise on quality. Being so long in the industry we've seen exactly what works and what is not up to doing the job.
That's why we only source our tyres from trusted quality suppliers that are able to deliver tyres of the most outstanding quality. We principally source our tyres from Trelleborg and Bearcat. 
These suppliers offer a variety of premium tyres suited to a variety of demanding operational applications. The tyres offer a combination of high performance with longevity to ensure forklifts are able to operate at optimal levels with minimal disruptions.
One of the best ways to ensure that your forklift is operating as efficiently as possible is to ensure it has been equipped with the appropriate tyres for its intended use.
There are a range of tyres available from Cushion and Polyurethane, best used in indoor environments, to Pneumatic tyres that are best suited to more uneven surfaces. When going about this important decision it's important to factor in the intended application, type of forklift and work environment. By selecting the right type of tyres a business can increase safety in the workplace, improve productivity, and reduce fleet maintenance costs.
Here at Forkserve with our years of experience in the industry, we've built up the valuable know-how and expertise to both supply and fit quality tyres from leading Forklift tyre suppliers.
We'll take the time and effort to understand your unique requirements and then find the best possible tyres for your forklift.
For any of your Forklift tyre needs, why not contact us today.